Kwaebibirem Rural Bank makes progress
News & Reports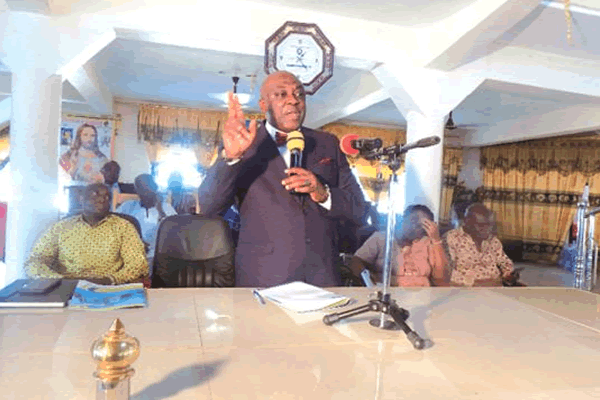 The Chairman of the Board of Directors of the Kwaebibirem Rural Bank, at Akyem Asuom in the Eastern Region, Mr Carlos Kingsley Ahenkorah, has stated that the bank has positioned itself strategically for the future in view of the challenges the banking industry has faced in recent times.
He said during the year under review, the bank granted loans totalling GH¢5,220,304 to its customers in 2017 as against the GH¢4,420,970 in 2016.

During the same period, the bank declared a net profit of GH¢273,716 compared to the GH¢215,583 it made in 2016.

Mr Ahenkorah, who is also a Deputy Minister of Trade, made this known at the bank's 34th annual general meeting held at Akyem Boadua, near Akwatia, last Saturday.
.
He said the bank's total deposit increased from GH¢13,621,355 in 2016 to GH¢15,485,452 in 2017 while the shareholder fund shot up from GH¢146,677 in 2016 to GH¢363,065 in 2017.

Mr Ahenkorah said an investor had given the bank an amount of GH¢700,000 to enable it to achieve the Bank of Ghana's required stated capital from rural and community banks by the end of December 2018.

Corporate Social Responsibility

The Board Chairman said as part of the bank's corporate social responsibility, the bank donated 10 gallons of fuel every month to the Kade, Akwatia and Asuom police stations and the Ghana National Fire Service stations to enhance their operations.

He said in 2017, the bank reshaped the very bad Abadom-Abaam and Asuom-Bomso road and completed the construction of a two-classroom block for the Asuom Kindergarten, which had been left at the roofing level; provided cash for the construction of a wooden bridge at Asuom and donated 100 bags of cement to the St Dominic Hospital at Akwatia towards rehabilitation works in some of the wards.

He urged customers of the bank to increase their shareholdings in order for the bank to enjoy steady growth.

The Deputy Managing Director of the ARB Apex Bank, Mr Alex Kwasi Awuah, advised directors of community and rural banks to acquire specialist skills and be conversant with the banking system so they could contribute towards managing the banks effectively.

He also advised shareholders to be patient and have trust for the bank.

The President of the Eastern Regional chapter of the Association of Rural Banks (ARBs), Mr D.O.K. Owusu, said the ARBs would engage the government in discussions for far-reaching policies to be introduced that would stimulate the growth and development of the rural banking industry in the country.